Viral Story: For a few years, the thing that has been discussed the most around the world is cryptocurrency tea. The biggest thing behind its discussion is that cryptocurrencies have made many people around the world millionaires and billionaires overnight. However, its use is still not valid in many countries and this includes India.
We have heard and read many stories of tea vendors. One of them Chaiwala has even become the Prime Minister of this country. Recently many chaiwalas have opened their shops. Some are MBA Chaiwala, some graduate Chaiwala, some unfaithful Chaiwala and Khalihar Chaiwala. Have read and heard many such viral stories. 
Let us tell you that everyone in this country is fond of drinking tea. The brand may be different, but everyone's favorite is tea. Now the story of the tea seller we are going to tell is different from all these. This tea seller lives in Bangalore. Also, tell that a tea seller from Bengaluru has become famous for the reason that he takes payment of tea in cryptocurrency as well. This is quite surprising, but absolutely true.
This tea stall is run by Shubham Saini, who has named the shop as Frustrated Dropout. Now we cannot tell how frosty they are, but people are liking their method. Sharing his story, famous businessman Harsh Goenka shared a picture on his official Twitter handle and wrote a caption that "This is new India".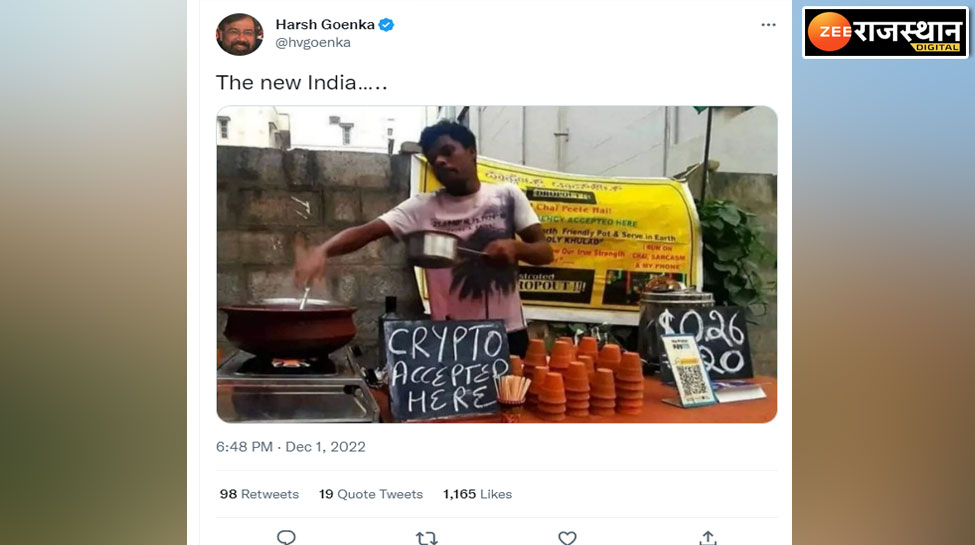 Let us tell you that the special thing about this tea stall is that the QR code of Paytm has already been installed on this tea-stall, so that people can pay online, as well as there is a small black board on which it is written. That crypto is accepted here. Now businessman Harsh Goenka's tweet is going viral on social media. People are liking this tweet. Commenting on this tweet, people are writing that 'this is a very different idea'. While commenting, another user has written that 'very wonderful'.